TOOLS OF THE TRADE         Installment one of The Novelist Next Door blog
Novel writing tools circa 1985 (left) and 2015 (right). I've been at this for a while….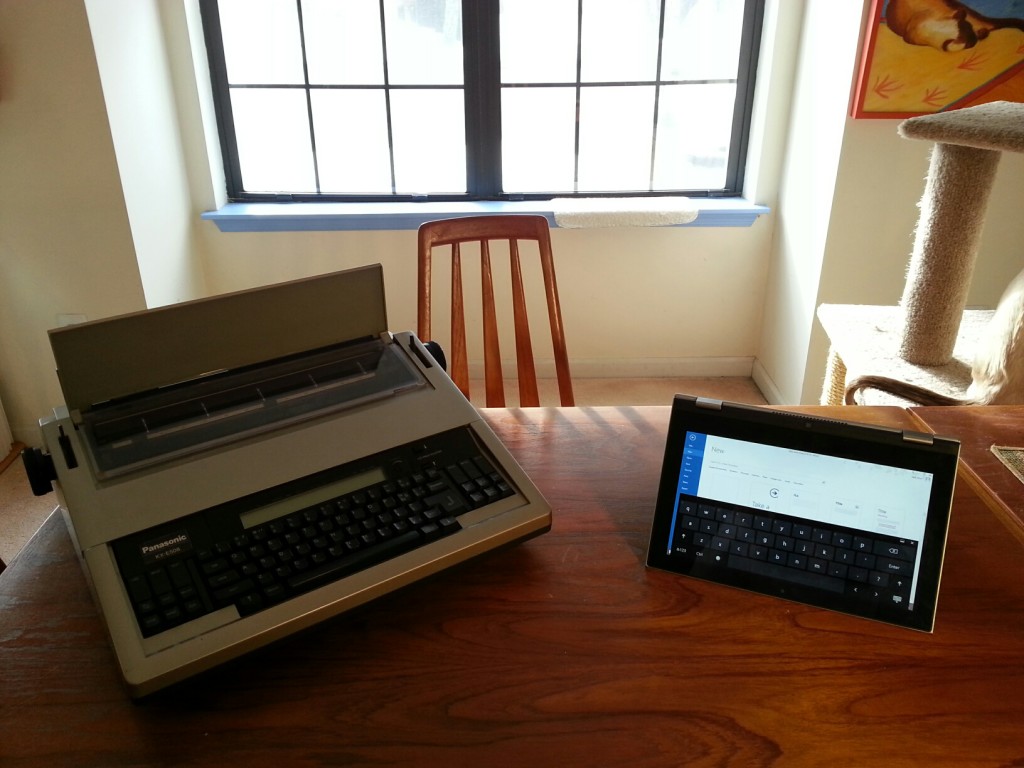 In this NND blog, I'll be musing about novels, novel writing, and novelists next door. We're out there. Right in your own neighborhood! Reading and writing novels.
A little about me to get going….
I have degrees in English (always a good excuse to write fiction) and Conservation Biology (always a good excuse to wander around in the woods or explore the low tide line).  Art, Science, and Literature have encircled my life for decades.
My heroes as a teenager were Henry David Thoreau, John Muir, and Vincent Van Gogh. Renaissance people. Writer-artists and scientist-writers and philosopher-naturalists. Nature lovers all. I used to ride my Morgan-Quarter Horse cross gelding around Walden Pond in the olden days. I enjoyed hearing that this wilderness loving man, HDT, facing life directly at The Pond, used to go back home once a week to do his laundry.
The year I spent at the University of Maine, I discovered the wonderful Quebec novels of the French-Canadian novelist Gabriella Roy. These books–I remember The Tin Flute in particular–made me wonder at how one infuses emotion–love, pain, striving, desire–into literature and what it would be like to be able to do that myself.
My novel writing journey began with an inspiration from a canoe trip I took on the Noatak River above the Arctic Circle in Alaska the summer that Prince Charles married Diana Spencer. That trip gave me the kernel of an idea for my first novel, STAKING A CLAIM, written when electronic typewriters with a single-line LCD were state-of-the-art (see my old pal above left). Now I write on a 2-in-1 (my new pal above right) using Twine storyboarding software. Although index cards are still in the mix for me when starting on a new project.
Through STAKING and a subsequent novel (THE LAST ACRE), I learned what the heck goes into writing a novel: character development, plot building, point of view, dialogue, scene structure, going for an effect that is beyond the sum of the words written. Is it ever possible to learn this craft completely? Shout out if you have.
Write. Revise. Write. Revise. Repeat, repeat, repeat. Ok, I've got something here! And now HALT AT X, my debut novel, is in the final publishing stages for a spring 2015 launch. I'm starting on the next novel in the series set on the Weekapaug Coast of Rhode Island.
But when it comes to tools, the instruments of writing, I think of novelists long since dead who had no access to anything electronic or even electric for that matter. Those instruments don't help at all without a huge dose of heart. Heart to get the story on the page. Heart to thrash it out when the way forward is murky at its clearest. Heart to see clearly into the workings of the character most unlike you. Heart to go on when the whole thing turns into something else right under your nose. Heart that builds the more you write and rewrite. Heart period. Best tool for a novelist. Developing heart may be the purpose of all the things with meaning that we are called to do.
That's all for now. Novel readers and writers among you: send comments and suggestions of future blog topics of interest. I've got topics up my sleeve, but I what to hear what you're thinking…and reading. I expect to be blogging seasonally, more or less.
Happy spring to all…it's been a long winter.