The Story of Understory         Installment two of The Novelist Next Door blog
Halt at X  has been out in the world for a month now. Thanks to you early-adopter readers! I would love to get your reviews on Amazon and Goodreads, if you are so inclined.
And so….next?    A novel set on the Weekapaug Coast of Rhode Island eighty years after of the Hurricane of '38. 
On a short research jaunt there in May I met a talkative old local (Bill) from Pawcatuck, RI, who told me stories I hadn't found in the books and old newspaper articles I've read so far. All while I was tripping over the briars and picking off ticks while stumbling around the hulking remains of Ft. Mansfield at Napatree Point. I did not see Bill stumble once! The plovers were piping loudly, the gulls were crabbing, and the cliff swallows were dive bombing me to steer clear of their nests in the abandoned fort! Great fun was had by all, except, I suppose, the crabs….
So I've been idea-gathering by reading, talking, and exploring the area on foot and have a treasure chest full of material, all jumbled together. But nascent novels are squirmy things–you don't know whether some new idea is part of the superstructure or a minor detail. Or simply a distraction. I can easily get distracted by things I stumble upon in the early phase of research, like the ruins of an old dock off Napatree. Perhaps something can happen there or maybe….  But I continue to gather with an open mind because sometimes an intriguing detail will bloom into a storyline that resolves one of the questions the novel pose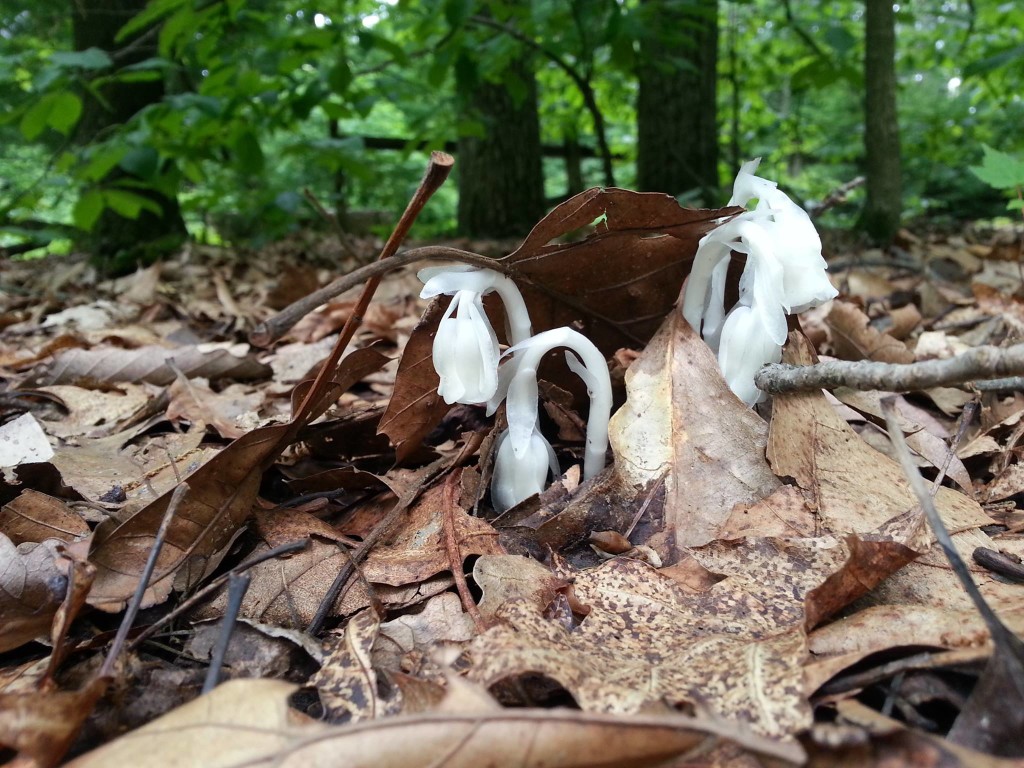 s. You just won't know until you get deeper into the woods with the story.
During a hike recently in French Creek State Park–for some reason I seem to like to walk outside when plotting–I was struck by the beauty and complexity of the understory of a healthy Pennsylvania woodland. Not the edges of pocket woods in the suburbs, choked with multiflora rosa, invasive honeysuckle, and garlic mustard, but woodlands whose carpets are graced with spicily fragrant ferns, beech and chestnut oak saplings, and Indian pipes just poking up through the leaf litter. They remind me to be on the lookout for the totally unexpected, the ghost-like, the evocative bit of something that will add an unexpected twist to a scene or a plot. Sometimes small things endure and grow into more immense things–like a mature chestnut oak–after days and years of sun and rain. Which reminds me of the words–put on the page one at a time–that will make up the new novel, growing by their linkage to each word put down before and after.
Anyway, after many months of preparations to publish Halt at X, it's great to be back in the lush woodland or active sandy beach phase of novel gestation. Activity, color, ideas, and energy–characters, locations, motivations, and twists being created and considered. The scary and exhilarating phase that offers the terrors and blessings of many possibilities. Putting one thing next to what you already have and seeing what happens.
Happy summer wanderings to you.
-Sally